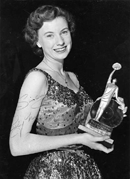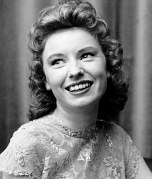 The Ruby Murray Recordings
This list gives all the songs that were recorded by Ruby, together with an indication of the recording format on which they can be found. Ruby's original master recordings were made for Columbia (which became part of EMI), Decca, Phillips/Fontana, and finally the President label. Most of the CDs released after 1997 are still available to buy new, but the records can only be obtained from specialist second-hand shops, or on Ebay.
Disclaimer: the inclusion of a CD in this list is not to be taken as a recommendation to buy - potential purchasers should satisfy themselves regarding the quality.
Below the song listing is a table showing the compilation titles of EPs, LPs, cassette tapes, and CDs.
CREDITS: These tables have been compiled with the kind help of material from Brian Henson and Graham Bunn.
This page was last updated on Febuary 9, 2010.
Song Title
Format
Released
Label
Number
Compilation Title
Absence Makes The Heart Grow Fonder
45 rpm
9/1970
President
PT 307
LP
12/1970
President
PTLS 1040
Change Your Mind
LP
12/1977
Rhapsody
RHAS 9018
Softly Softly
CD
11/2004
President
PRCD158
Change Your Mind
Ain't That A Grand And Glorious Feeling
78 rpm
11/1957
Columbia
DB 4042
45 rpm
11/1957
Columbia
45-DB 4042
LP
8/1966
Music for Pleasure
MFP 1094
Your Favourite Colleen
CD
3/2005
EMI
7243 860956 2 6
Anthology: The Golden Anniversary Collection
Among The Wicklow Hills
LP
2/1968
Fontana
STL5444
This Is Ireland
CD
1993
Philips
514 349 - 2
Reflections: When Irish Eyes Are Smiling
As Simple As That
45 rpm
12/1962
Columbia
45-DB 4944
CD
3/2005
EMI
7243 860956 2 6
Anthology: The Golden Anniversary Collection
At Finnigan's Ball
LP
12/1958
Columbia
33S 1135
Endearing Young Charms
LP
...
Capitol
DT 10459
Endearing Young Charms
LP
11/1971
Talisman
STAL 6028
A Little Bit of Heaven
CD
3/2005
EMI
7243 860956 2 6
Anthology: The Golden Anniversary Collection
CD
3/2005
EMI Gold
7243 873633 2 8
It's the Irish in Me
Ave Maria
EP
11/1956
Columbia
SEG 7669
Our Choice
LP
8/1966
Music for Pleasure
MFP 1094
Your Favourite Colleen
CD
3/2005
EMI
7243 860956 2 6
Anthology: The Golden Anniversary Collection
Away From You
LP
12/1970
President
PTLS 1040
Change Your Mind
45 rpm
11/1971
President
PT 353
LP
12/1977
Rhapsody
RHAS 9018
Softly Softly
CD
11/2004
President
PRCD158
Change Your Mind
Ballyshannon
LP
2/1968
Fontana
STL5444
This Is Ireland
Bambino
78 rpm
5/1955
Columbia
DB 3617
45 rpm
5/1955
Columbia
SCM 5180
LP
1989
EMI
EMS 1339
The Best of Ruby Murray - The EMI Years
CD
1989
EMI
CDP 7 92744 2
Ruby Murray The Best of the EMI Years
CD
3/2005
EMI
7243 860956 2 6
Anthology: The Golden Anniversary Collection
CD
8/2005
Pegasus
PEGCD 561
Happy Days and Lonely Nights
CD
2/2006
Xtra Delta Music
26527
Softly Softly
CD
3/2006
Hallmark
?
Heartbeat
Before We Know It
78 rpm
3/1955
Columbia
DB 3580
45 rpm
3/1955
Columbia
SCM 5169
CD
3/2005
EMI
7243 860956 2 6
Anthology: The Golden Anniversary Collection
CD
8/2005
Pegasus
PEGCD 561
Happy Days and Lonely Nights
CD
2/2006
Xtra Delta Music
26527
Softly Softly
CD
3/2006
Hallmark
?
Heartbeat
Believe Me If All Those Endearing Young Charms
LP
12/1958
Columbia
33S 1135
Endearing Young Charms
LP
...
Capitol
DT 10459
Endearing Young Charms
EP
11/1959
Columbia
SEG 7952
Endearing Young Charms
CD
3/2005
EMI
7243 860956 2 6
Anthology: The Golden Anniversary Collection
CD
3/2005
EMI Gold
7243 873633 2 8
It's the Irish in Me
Bonny Boy
LP
2/1967
Fontana
STL5380
The Spinning Wheel
LP
8/1969
Fontana Special
SFL 13138
The Spinning Wheel
CD
1993
Philips
514 349 - 2
Reflections: When Irish Eyes Are Smiling
Boy Meets Girl

(with Norman Wisdom)

78 rpm
1/1956
Columbia
DB 3715
45 rpm
1/1956
Columbia
SCM 5222
EP
4/1957
Columbia
SEG 7687
Norman and Ruby
LP
1989
EMI
EMS 1339
The Best of Ruby Murray - The EMI Years
CD
1989
EMI
CDP 7 92744 2
Ruby Murray The Best of the EMI Years
CD
2003
EMI Gold
7243 582652 2 4
The Very Best of Norman Wisdom
CD
3/2005
EMI
7243 860956 2 6
Anthology: The Golden Anniversary Collection
Boys From County Armagh, The
LP
2/1967
Fontana
STL5380
The Spinning Wheel
LP
8/1969
Fontana Special
SFL 13138
The Spinning Wheel
Boys From County Mayo, The
LP
2/1968
Fontana
STL5444
This Is Ireland
CD
1993
Philips
514 349 - 2
Reflections: When Irish Eyes Are Smiling
Boys Of Coleraine, The
LP
2/1968
Fontana
STL5444
This Is Ireland
CD
1993
Philips
514 349 - 2
Reflections: When Irish Eyes Are Smiling
Button Up Your Overcoat
LP
1/1960
Columbia
SCX 3289
Ruby
CD
1988
EMI
CDB 7 52044 2
Ruby Murray Greatest Hits
CD
3/2005
EMI
7243 860956 2 6
Anthology: The Golden Anniversary Collection
Change Your Mind
45 rpm
9/1970
President
PT 307
LP
12/1970
President
PTLS 1040
Change Your Mind
LP
12/1977
Rhapsody
RHAS 9018
Softly Softly
CD
11/2004
President
PRCD158
Change Your Mind
Christmas In Killarney
LP
1962
Columbia
SCX 3432
Irish....and Proud of it
LP
...
Capitol
?
Irish....and Proud of it
CD
3/1997
EMI
7243 856061 2 0
When Irish Eyes Are Smiling/Irish...and Proud of it
Christmastime In Ireland
LP
1962
Columbia
SCX 3432
Irish....and Proud of it
LP
...
Capitol
?
Irish....and Proud of it
CD
3/1997
EMI
7243 856061 2 0
When Irish Eyes Are Smiling/Irish...and Proud of it
Cockles And Mussels
LP
1962
Columbia
SCX 3432
Irish....and Proud of it
LP
...
Capitol
?
Irish....and Proud of it
LP
11/1971
Talisman
STAL 6028
A Little Bit of Heaven
CD
1988
EMI
CDB 7 52044 2
Ruby Murray Greatest Hits
CD
3/1997
EMI
7243 856061 2 0
When Irish Eyes Are Smiling/Irish...and Proud of it
CD
1997
EMI
7243 856706 2 6
Best of Ireland
CD
2000
HMV Easy
7243 5 29446 2 0
The Ruby Murray Collection
CD
3/2005
EMI Gold
7243 873633 2 8
It's the Irish in Me
Come Back Paddy Reilly
LP
2/1967
Fontana
STL5380
The Spinning Wheel
LP
8/1969
Fontana Special
SFL 13138
The Spinning Wheel
CD
1993
Philips
514 349 - 2
Reflections: When Irish Eyes Are Smiling
Come Into My Heart
CD
3/2005
EMI
7243 860956 2 6
Anthology: The Golden Anniversary Collection
Congratulations
45 rpm
3/1960
Columbia
45-DB 4426
LP
1960/61
Columbia
33SX 1244
Blackpool Nights
CD
3/2005
EMI
7243 860956 2 6
Anthology: The Golden Anniversary Collection
Connemara

(with Brendan O'Dowda)

78 rpm
6/1959
Columbia
DB 4326
45 rpm
6/1959
Columbia
45-DB 4326
CD
3/2005
EMI
7243 860956 2 6
Anthology: The Golden Anniversary Collection
Coortin' In The Kitchen
LP
12/1958
Columbia
33S 1135
Endearing Young Charms
LP
...
Capitol
DT 10459
Endearing Young Charms
LP
11/1971
Talisman
STAL 6028
A Little Bit of Heaven
CD
1990
Rego Records
RCD-82000
On The One Road
CD
3/2005
EMI
7243 860956 2 6
Anthology: The Golden Anniversary Collection
CD
3/2005
EMI Gold
7243 873633 2 8
It's the Irish in Me
Danny Boy
LP
11/1955
Columbia
33S 1079
When Irish Eyes are Smiling
LP
...
Capitol
T 100010
The Voice of Ireland
LP
11/1970
Talisman
STAL 6014
Irish....and Proud of it
LP
3/1984
Music for Pleasure
MFP 41 5644 1
The Very Best of Ruby Murray
Tape
1984
Music for Pleasure
TC-MFP 41 5644 4
The Very Best of Ruby Murray
CD
1988
EMI
CDB 7 52044 2
Ruby Murray Greatest Hits
CD
3/1997
EMI
7243 856061 2 0
When Irish Eyes Are Smiling/Irish...and Proud of it
CD
5/1997
EMI
7243 855084 2 4
The Magic of Ruby Murray
CD
1997
EMI
7243 856706 2 6
Best of Ireland
CD
1999
Disky
DB 856362
Memories Are Made of This
CD
2000
HMV Easy
7243 5 29446 2 0
The Ruby Murray Collection
CD
3/2005
EMI Gold
7243 873633 2 8
It's the Irish in Me
CD
8/2005
Pegasus
PEGCD 561
Happy Days and Lonely Nights
CD
2/2006
Xtra Delta Music
26527
Softly Softly
CD
3/2006
Hallmark
?
Heartbeat
Dear Daddy
LP
9/1961
Encore
ENC 104
Ruby Murray Successes
LP
6/1975
One Up
OU 2084
The Best of Ruby Murray
Tape
6/1975
One Up
TC OU 2084
The Best of Ruby Murray
CD
3/2005
EMI
7243 860956 2 6
Anthology: The Golden Anniversary Collection
Dear Old Donegal
LP
11/1955
Columbia
33S 1079
When Irish Eyes are Smiling
LP
...
Capitol
T 100010
The Voice of Ireland
EP
12/1957
Columbia
SEG 7748
It's a Great Day for the Irish
LP
11/1970
Talisman
STAL 6014
Irish....and Proud of it
CD
3/1997
EMI
7243 856061 2 0
When Irish Eyes Are Smiling/Irish...and Proud of it
CD
5/1997
EMI
7243 855084 2 4
The Magic of Ruby Murray
CD
2000
HMV Easy
7243 5 29446 2 0
The Ruby Murray Collection
CD
3/2005
EMI Gold
7243 873633 2 8
It's the Irish in Me
CD
2/2006
Xtra Delta Music
26527
Softly Softly
Dear Old Donegal (live)
LP
3/1964
EMI
SCX 3506
St. Patrick's Day
LP
3/1971
Talisman
STAL 6024
St. Patrick's Day
CD
1997
EMI
7243 856706 2 6
Best of Ireland
CD
3/2005
EMI
7243 860956 2 6
Anthology: The Golden Anniversary Collection
Delaney's Donkey (live)
LP
3/1964
EMI
SCX 3506
St. Patrick's Day
LP
3/1971
Talisman
STAL 6024
St. Patrick's Day
CD
1997
EMI
7243 856706 2 6
Best of Ireland
CD
3/2005
EMI
7243 860956 2 6
Anthology: The Golden Anniversary Collection
Diamond, The
45 rpm
2/1962
Columbia
45-DB 4771
CD
3/2005
EMI
7243 860956 2 6
Anthology: The Golden Anniversary Collection
Dooneree (or Doonaree)
LP
12/1958
Columbia
33S 1135
Endearing Young Charms
LP
...
Capitol
DT 10459
Endearing Young Charms
LP
11/1971
Talisman
STAL 6028
A Little Bit of Heaven
CD
3/2005
EMI
7243 860956 2 6
Anthology: The Golden Anniversary Collection
CD
3/2005
EMI Gold
7243 873633 2 8
It's the Irish in Me
Doonaree (live)

(with Brendan O'Dowda)

LP
3/1964
EMI
SCX 3506
St. Patrick's Day
LP
3/1971
Talisman
STAL 6024
St. Patrick's Day
CD
1990
Rego Records
RCD-82000
On The One Road
CD
1997
EMI
7243 856706 2 6
Best of Ireland
CD
3/2005
EMI
7243 860956 2 6
Anthology: The Golden Anniversary Collection
Do You Remember? (live)

(with Bernie Burgess)

This song was never released commercially. An mp3 copy can be found in the Library of this website.
Eileen O'Grady (live)

(with Brendan O'Dowda)

LP
3/1964
EMI
SCX 3506
St. Patrick's Day
LP
3/1971
Talisman
STAL 6024
St. Patrick's Day
CD
1990
Rego Records
RCD-82000
On The One Road
CD
1997
EMI
7243 856706 2 6
Best of Ireland
CD
3/2005
EMI
7243 860956 2 6
Anthology: The Golden Anniversary Collection
Evermore
78 rpm
5/1955
Columbia
DB 3617
45 rpm
5/1955
Columbia
SCM 5180
LP
9/1961
Encore
ENC 104
Ruby Murray Successes
LP
6/1975
One Up
OU 2084
The Best of Ruby Murray
Tape
6/1975
One Up
TC OU 2084
The Best of Ruby Murray
LP
3/1984
Music for Pleasure
MFP 41 5644 1
The Very Best of Ruby Murray
Tape
1984
Music for Pleasure
TC-MFP 41 5644 4
The Very Best of Ruby Murray
CD
1988
EMI
CDB 7 52044 2
Ruby Murray Greatest Hits
CD
1989
Music for Pleasure
MFP 6051
The Great Entertainers Vol. 1
LP
1989
EMI
EMS 1339
The Best of Ruby Murray - The EMI Years
CD
1989
EMI
CDP 7 92744 2
Ruby Murray The Best of the EMI Years
CD
5/1997
EMI
7243 855084 2 4
The Magic of Ruby Murray
CD
2000
HMV Easy
7243 5 29446 2 0
The Ruby Murray Collection
CD
3/2005
EMI
7243 860956 2 6
Anthology: The Golden Anniversary Collection
CD
8/2005
Pegasus
PEGCD 561
Happy Days and Lonely Nights
CD
2/2006
Xtra Delta Music
26527
Softly Softly
CD
3/2006
Hallmark
?
Heartbeat
Faith Of A Child, The
45 rpm
10/1961
Columbia
45-DB 4701
CD
3/2005
EMI
7243 860956 2 6
Anthology: The Golden Anniversary Collection
Fifty Years Ago
LP
2/1968
Fontana
STL5444
This Is Ireland
CD
1993
Philips
514 349 - 2
Reflections: When Irish Eyes Are Smiling
For Now, For Ever
78 rpm
2/1956
Columbia
DB 3718
45 rpm
2/1956
Columbia
SCM 5225
LP
1984
Music for Pleasure
MFP DL41 1050 3
Favourites of the 1950s (Double LP)
CD
3/2005
EMI
7243 860956 2 6
Anthology: The Golden Anniversary Collection
Forever
45 rpm
3/1960
Columbia
45-DB 4426
CD
3/2005
EMI
7243 860956 2 6
Anthology: The Golden Anniversary Collection
Forgive Me My Darling
78 rpm
2/1958
Columbia
DB 4075
45 rpm
2/1958
Columbia
45-DB 4075
CD
3/2005
EMI
7243 860956 2 6
Anthology: The Golden Anniversary Collection
Forty Shades Of Green
LP
1962
Columbia
SCX 3432
Irish....and Proud of it
LP
...
Capitol
?
Irish....and Proud of it
LP
11/1970
Talisman
STAL 6014
Irish....and Proud of it
CD
1990
Rego Records
RCD-82000
On The One Road
CD
3/1997
EMI
7243 856061 2 0
When Irish Eyes Are Smiling/Irish...and Proud of it
CD
3/2005
EMI Gold
7243 873633 2 8
It's the Irish in Me
From The First Hello - To The Last Goodbye

(Ruby donated all royalties to The Horder Centre for Arthritics)

78 rpm
3/1957
Columbia
DB 3911
45 rpm
3/1957
Columbia
45-DB 3911
CD
2002
Vocalion
CDLK 4148
5 Fabulous Females
Galway Bay
LP
11/1955
Columbia
33S 1079
When Irish Eyes are Smiling
LP
...
Capitol
T 100010
The Voice of Ireland
LP
11/1970
Talisman
STAL 6014
Irish....and Proud of it
CD
3/1997
EMI
7243 856061 2 0
When Irish Eyes Are Smiling/Irish...and Proud of it
CD
5/1997
EMI
7243 855084 2 4
The Magic of Ruby Murray
CD
2000
HMV Easy
7243 5 29446 2 0
The Ruby Murray Collection
CD
3/2005
EMI Gold
7243 873633 2 8
It's the Irish in Me
CD
2/2006
Xtra Delta Music
26527
Softly Softly
Get Well Soon
78 rpm
9/1954
Columbia
DB 3518
EP
5/1955
Columbia
SEG 7588
Ruby Is a Gem
LP
6/1975
One Up
OU 2084
The Best of Ruby Murray
Tape
6/1975
One Up
TC OU 2084
The Best of Ruby Murray
LP
3/1984
Music for Pleasure
MFP 41 5644 1
The Very Best of Ruby Murray
Tape
1984
Music for Pleasure
TC-MFP 41 5644 4
The Very Best of Ruby Murray
CD
1988
EMI
CDB 7 52044 2
Ruby Murray Greatest Hits
CD
3/2005
EMI
7243 860956 2 6
Anthology: The Golden Anniversary Collection
CD
8/2005
Pegasus
PEGCD 561
Happy Days and Lonely Nights
CD
3/2006
Hallmark
?
Heartbeat
Goin' Co'tin'


(with Diana Decker, Ray Burns, & Ronnie Harris)

78 rpm
2/1955
Columbia
DB 3567
45 rpm
2/1955
Columbia
SCM 5165
CD
2002
EMI Gold
7243 541491 2 2
The Complete Diana Decker
CD
3/2005
EMI
7243 860956 2 6
Anthology: The Golden Anniversary Collection
CD
3/2006
Hallmark
?
Heartbeat
Going Home To My Love
45 rpm
3/1968
Fontana
TF 914
Good Luck, Good Health, God Bless You


(with Michael Holliday & Eddie Calvert)

EP
11/1956
Columbia
SEG 7669
Our Choice
EP
5/1981
EMI
MI 4001
Here's To the Couple
LP
1984
Music for Pleasure
MFP DL41 1050 3
Favourites of the 1950s (Double LP)
CD
3/2005
EMI
7243 860956 2 6
Anthology: The Golden Anniversary Collection
Goodbye Is The Loneliest Word I Know
45 rpm
2/1961
Columbia
45-DB 4575
CD
3/2005
EMI
7243 860956 2 6
Anthology: The Golden Anniversary Collection
Goodbye Jimmy, Goodbye
78 rpm
5/1959
Columbia
DB 4305
45 rpm
5/1959
Columbia
45-DB 4305
LP
8/1966
Music for Pleasure
MFP 1094
Your Favourite Colleen
LP
6/1975
One Up
OU 2084
The Best of Ruby Murray
Tape
6/1975
One Up
TC OU 2084
The Best of Ruby Murray
LP
3/1984
Music for Pleasure
MFP 41 5644 1
The Very Best of Ruby Murray
Tape
1984
Music for Pleasure
TC-MFP 41 5644 4
The Very Best of Ruby Murray
CD
1988
EMI
CDB 7 52044 2
Ruby Murray Greatest Hits
LP
1989
EMI
EMS 1339
The Best of Ruby Murray - The EMI Years
CD
1989
EMI
CDP 7 92744 2
Ruby Murray The Best of the EMI Years
CD
1989
Music for Pleasure
MFP 6045
Hits of 1959
CD
5/1997
EMI
7243 855084 2 4
The Magic of Ruby Murray
CD
2000
HMV Easy
7243 5 29446 2 0
The Ruby Murray Collection
CD
3/2005
EMI
7243 860956 2 6
Anthology: The Golden Anniversary Collection
Goodbye Johnny
LP
2/1967
Fontana
STL5380
The Spinning Wheel
LP
8/1969
Fontana Special
SFL 13138
The Spinning Wheel
CD
1993
Philips
514 349 - 2
Reflections: When Irish Eyes Are Smiling
Green Glens Of Antrim, The
EP
5/1956
Columbia
SEG 7631
Everybody's Sweetheart (No. 2)
LP
...
Capitol
T 100010
The Voice of Ireland
CD
3/2005
EMI
7243 860956 2 6
Anthology: The Golden Anniversary Collection
Hannigan's Hooley
LP
1962
Columbia
SCX 3432
Irish....and Proud of it
LP
...
Capitol
?
Irish....and Proud of it
LP
11/1971
Talisman
STAL 6028
A Little Bit of Heaven
CD
1990
Rego Records
RCD-82000
On The One Road
CD
3/1997
EMI
7243 856061 2 0
When Irish Eyes Are Smiling/Irish...and Proud of it
CD
3/2005
EMI Gold
7243 873633 2 8
It's the Irish in Me
Happy Days And Lonely Nights
78 rpm
2/1955
Columbia
DB 3577
EP
5/1955
Columbia
SEG 7588
Ruby Is a Gem
LP
9/1961
Encore
ENC 104
Ruby Murray Successes
LP
6/1975
One Up
OU 2084
The Best of Ruby Murray
Tape
6/1975
One Up
TC OU 2084
The Best of Ruby Murray
LP
3/1984
Music for Pleasure
MFP 41 5644 1
The Very Best of Ruby Murray
Tape
1984
Music for Pleasure
TC-MFP 41 5644 4
The Very Best of Ruby Murray
CD
1988
EMI
CDB 7 52044 2
Ruby Murray Greatest Hits
LP
1989
EMI
EMS 1339
The Best of Ruby Murray - The EMI Years
CD
1989
EMI
CDP 7 92744 2
Ruby Murray The Best of the EMI Years
CD
1992
Music for Pleasure
0777 7 80618 2 3
Flashback to the Fifties (Double CD)
CD
1995
Music for Pleasure
CDTR Box 180
Love Songs of the Fifties
CD
5/1997
EMI
7243 855084 2 4
The Magic of Ruby Murray
CD
2000
HMV Easy
7243 5 29446 2 0
The Ruby Murray Collection
CD
3/2005
EMI
7243 860956 2 6
Anthology: The Golden Anniversary Collection
CD
8/2005
Pegasus
PEGCD 561
Happy Days and Lonely Nights
CD
2/2006
Xtra Delta Music
26527
Softly Softly
CD
3/2006
Hallmark
?
Heartbeat
Have You Ever Been Lonely?
LP
1/1960
Columbia
SCX 3289
Ruby
CD
5/1997
EMI
7243 855084 2 4
The Magic of Ruby Murray
Heart


(Ruby donated all royalties to The Horder Centre for Arthritics)

78 rpm
3/1957
Columbia
DB 3911
45 rpm
3/1957
Columbia
45-DB 3911
CD
2002
Vocalion
CDLK 4148
5 Fabulous Females
Heartbeat
78 rpm
11/1954
Columbia
DB 3542
EP
5/1956
Columbia
SEG 7631
Everybody's Sweetheart (No. 2)
LP
9/1961
Encore
ENC 104
Ruby Murray Successes
LP
6/1975
One Up
OU 2084
The Best of Ruby Murray
Tape
6/1975
One Up
TC OU 2084
The Best of Ruby Murray
LP
3/1984
Music for Pleasure
MFP 41 5644 1
The Very Best of Ruby Murray
Tape
1984
Music for Pleasure
TC-MFP 41 5644 4
The Very Best of Ruby Murray
Tape
1986
EMI
HR 41 8110 4
The Stars of the Fifties
CD
1988
EMI
CDB 7 52032 2
Stars of the 50s
CD
1988
EMI
CDB 7 52044 2
Ruby Murray Greatest Hits
LP
1989
EMI
EMS 1339
The Best of Ruby Murray - The EMI Years
CD
1989
EMI
CDP 7 92744 2
Ruby Murray The Best of the EMI Years
CD
1990
Readers Digest
RDCD 161 166
These Were Our Songs The Early 50s
CD
...
Music for Pleasure
CDTR Box 144
Hits from the Fifties
CD
1995
Music for Pleasure
CDTR Box 180
Love Songs of the Fifties
CD
5/1997
EMI
7243 855084 2 4
The Magic of Ruby Murray
CD
2000
HMV Easy
7243 5 29446 2 0
The Ruby Murray Collection
CD
3/2005
EMI
7243 860956 2 6
Anthology: The Golden Anniversary Collection
CD
8/2005
Pegasus
PEGCD 561
Happy Days and Lonely Nights
CD
2/2006
Xtra Delta Music
26527
Softly Softly
CD
3/2006
Hallmark
?
Heartbeat
Heartbeat (version 2)
LP
12/1970
President
PTLS 1040
Change Your Mind
LP
12/1977
Rhapsody
RHAS 9018
Softly Softly
CD
11/2004
President
PRCD158
Change Your Mind
He's A Pal of Mine
78 rpm
11/1954
Columbia
DB 3542
EP
5/1955
Columbia
SEG 7588
Ruby Is a Gem
CD
3/2005
EMI
7243 860956 2 6
Anthology: The Golden Anniversary Collection
CD
8/2005
Pegasus
PEGCD 561
Happy Days and Lonely Nights
CD
2/2006
Xtra Delta Music
26527
Softly Softly
Honestly I Do
78 rpm
5/1956
Columbia
DB 3770
LP
9/1961
Encore
ENC 104
Ruby Murray Successes
LP
6/1975
One Up
OU 2084
The Best of Ruby Murray
Tape
6/1975
One Up
TC OU 2084
The Best of Ruby Murray
CD
5/1997
EMI
7243 855084 2 4
The Magic of Ruby Murray
CD
8/2005
Pegasus
PEGCD 561
Happy Days and Lonely Nights
How Can You Buy Killarney?
LP
11/1955
Columbia
33S 1079
When Irish Eyes are Smiling
LP
...
Capitol
T 100010
The Voice of Ireland
EP
12/1957
Columbia
SEG 7748
It's a Great Day for the Irish
LP
11/1970
Talisman
STAL 6014
Irish....and Proud of it
CD
1990
Rego Records
RCD-82000
On The One Road
CD
3/1997
EMI
7243 856061 2 0
When Irish Eyes Are Smiling/Irish...and Proud of it
CD
5/1997
EMI
7243 855084 2 4
The Magic of Ruby Murray
CD
3/2005
EMI Gold
7243 873633 2 8
It's the Irish in Me
CD
2/2006
Xtra Delta Music
26527
Softly Softly
How Did He Look?
45 rpm
12/1962
Columbia
45-DB 4944
LP
8/1966
Music for Pleasure
MFP 1094
Your Favourite Colleen
CD
3/2005
EMI
7243 860956 2 6
Anthology: The Golden Anniversary Collection
Humour Is On Me Now, The
78 rpm
5/1959
Columbia
DB 4305
45 rpm
5/1959
Columbia
45-DB 4305
LP
12/1958
Columbia
33S 1135
Endearing Young Charms
LP
...
Capitol
DT 10459
Endearing Young Charms
LP
11/1971
Talisman
STAL 6028
A Little Bit of Heaven
CD
3/2005
EMI
7243 860956 2 6
Anthology: The Golden Anniversary Collection
CD
3/2005
EMI Gold
7243 873633 2 8
It's the Irish in Me
Hurry Home
45 rpm
11/1963
Columbia
DB 7151
CD
3/2005
EMI
7243 860956 2 6
Anthology: The Golden Anniversary Collection
I Can't Get You Out Of My Heart
45 rpm
5/1967
Fontana
TF 838
I Know I'm Home
78 rpm
4/1956
Columbia
DB 3750
EP
6/1956
Columbia
SEG 7636
Everybody's Sweetheart (No. 3)
CD
3/2005
EMI
7243 860956 2 6
Anthology: The Golden Anniversary Collection
CD
8/2005
Pegasus
PEGCD 561
Happy Days and Lonely Nights
I Will Wait For You
45 rpm
11/1971
President
PT 353
CD
11/2004
President
PRCD158
Change Your Mind
If Anyone Finds This, I Love You

(with Anne Warren)

78 rpm
3/1955
Columbia
DB 3580
45 rpm
3/1955
Columbia
SCM 5169
LP
9/1961
Encore
ENC 104
Ruby Murray Successes
LP
6/1975
One Up
OU 2084
The Best of Ruby Murray
Tape
6/1975
One Up
TC OU 2084
The Best of Ruby Murray
LP
3/1984
Music for Pleasure
MFP 41 5644 1
The Very Best of Ruby Murray
Tape
1984
Music for Pleasure
TC-MFP 41 5644 4
The Very Best of Ruby Murray
CD
1988
EMI
CDB 7 52044 2
Ruby Murray Greatest Hits
LP
1989
EMI
EMS 1339
The Best of Ruby Murray - The EMI Years
CD
1989
EMI
CDP 7 92744 2
Ruby Murray The Best of the EMI Years
CD
2000
HMV Easy
7243 5 29446 2 0
The Ruby Murray Collection
CD
3/2005
EMI
7243 860956 2 6
Anthology: The Golden Anniversary Collection
CD
8/2005
Pegasus
PEGCD 561
Happy Days and Lonely Nights
CD
2/2006
Xtra Delta Music
26527
Softly Softly
CD
3/2006
Hallmark
?
Heartbeat
If I Were A Blackbird
CD
3/2005
EMI
7243 860956 2 6
Anthology: The Golden Anniversary Collection
If We Only Had Old Ireland Over Here
LP
2/1967
Fontana
STL5380
The Spinning Wheel
LP
8/1969
Fontana Special
SFL 13138
The Spinning Wheel
CD
1993
Philips
514 349 - 2
Reflections: When Irish Eyes Are Smiling
If You're Irish Come Into The Parlour
LP
11/1955
Columbia
33S 1079
When Irish Eyes are Smiling
LP
...
Capitol
T 100010
The Voice of Ireland
LP
11/1970
Talisman
STAL 6014
Irish....and Proud of it
CD
3/1997
EMI
7243 856061 2 0
When Irish Eyes Are Smiling/Irish...and Proud of it
CD
3/2005
EMI Gold
7243 873633 2 8
It's the Irish in Me
CD
2/2006
Xtra Delta Music
26527
Softly Softly
CD
3/2006
Hallmark
?
Heartbeat
I'll Come When You Call
78 rpm
9/1955
Columbia
DB 3643
EP
1/1956
Columbia
SEG 7620
Everybody's Sweetheart
LP
3/1984
Music for Pleasure
MFP 41 5644 1
The Very Best of Ruby Murray
Tape
1984
Music for Pleasure
TC-MFP 41 5644 4
The Very Best of Ruby Murray
CD
1988
EMI
CDB 7 52044 2
Ruby Murray Greatest Hits
LP
1989
EMI
EMS 1339
The Best of Ruby Murray - The EMI Years
CD
1989
EMI
CDP 7 92744 2
Ruby Murray The Best of the EMI Years
CD
5/1997
EMI
7243 855084 2 4
The Magic of Ruby Murray
CD
2000
HMV Easy
7243 5 29446 2 0
The Ruby Murray Collection
CD
3/2005
EMI
7243 860956 2 6
Anthology: The Golden Anniversary Collection
CD
8/2005
Pegasus
PEGCD 561
Happy Days and Lonely Nights
CD
2/2006
Xtra Delta Music
26527
Softly Softly
CD
3/2006
Hallmark
?
Heartbeat
I'll Remember Today
78 rpm
11/1957
Columbia
DB 4042
45 rpm
11/1957
Columbia
45-DB 4042
CD
2002
Vocalion
CDLK 4148
5 Fabulous Females
I'll Walk The Rest Of The Way
45 rpm
5/1963
Columbia
DB 7028
CD
3/2005
EMI
7243 860956 2 6
Anthology: The Golden Anniversary Collection
I'm In Love With The Boy Next Door
45 rpm
5/1963
Columbia
DB 7028
CD
3/2005
EMI
7243 860956 2 6
Anthology: The Golden Anniversary Collection
In Love
78 rpm
12/1956
Columbia
DB 3852
45 rpm
12/1956
Columbia
45-DB 3852
CD
3/2005
EMI
7243 860956 2 6
Anthology: The Golden Anniversary Collection
In My Life
78 rpm
4/1958
Columbia
DB 4108
45 rpm
4/1958
Columbia
45-DB 4108
CD
3/2005
EMI
7243 860956 2 6
Anthology: The Golden Anniversary Collection
Irish Lullaby (Too-Ra-Loo-Ra-Loo-Ral)
LP
11/1955
Columbia
33S 1079
When Irish Eyes are Smiling
LP
...
Capitol
T 100010
The Voice of Ireland
LP
11/1970
Talisman
STAL 6014
Irish....and Proud of it
CD
3/1997
EMI
7243 856061 2 0
When Irish Eyes Are Smiling/Irish...and Proud of it
CD
3/2005
EMI Gold
7243 873633 2 8
It's the Irish in Me
CD
2/2006
Xtra Delta Music
26527
Softly Softly
CD
3/2006
Hallmark
?
Heartbeat
Irish Rover, The
LP
2/1967
Fontana
STL5380
The Spinning Wheel
LP
8/1969
Fontana Special
SFL 13138
The Spinning Wheel
CD
1993
Philips
514 349 - 2
Reflections: When Irish Eyes Are Smiling
Irish Summer '63
LP
2/1968
Fontana
STL5444
This Is Ireland
CD
1993
Philips
514 349 - 2
Reflections: When Irish Eyes Are Smiling
Isle Of Innisfree
CD
3/2005
EMI
7243 860956 2 6
Anthology: The Golden Anniversary Collection
It Only Hurts For A Little While
78 rpm
9/1956
Columbia
DB 3810
45 rpm
9/1956
Columbia
45-DB 3810
CD
3/2005
EMI
7243 860956 2 6
Anthology: The Golden Anniversary Collection
It's A Great Day For The Irish
LP
11/1955
Columbia
33S 1079
When Irish Eyes are Smiling
LP
...
Capitol
T 100010
The Voice of Ireland
EP
12/1957
Columbia
SEG 7748
It's a Great Day for the Irish
LP
11/1970
Talisman
STAL 6014
Irish....and Proud of it
CD
3/1997
EMI
7243 856061 2 0
When Irish Eyes Are Smiling/Irish...and Proud of it
CD
1997
EMI
7243 856706 2 6
Best of Ireland
CD
3/2005
EMI Gold
7243 873633 2 8
It's the Irish in Me
CD
2/2006
Xtra Delta Music
26527
Softly Softly
It's Love That Counts
45 rpm
3/1971
President
PT 327
CD
11/2004
President
PRCD158
Change Your Mind
It's The Irish In Me
78 rpm
9/1955
Columbia
DB 3643
EP
1/1956
Columbia
SEG 7620
Everybody's Sweetheart
LP
8/1966
Music for Pleasure
MFP 1094
Your Favourite Colleen
LP
1989
EMI
EMS 1339
The Best of Ruby Murray - The EMI Years
CD
1989
EMI
CDP 7 92744 2
Ruby Murray The Best of the EMI Years
CD
3/2005
EMI
7243 860956 2 6
Anthology: The Golden Anniversary Collection
CD
3/2005
EMI Gold
7243 873633 2 8
It's the Irish in Me
Jimmy Unknown
CD
3/2005
EMI
7243 860956 2 6
Anthology: The Golden Anniversary Collection
Johnny Gray (live)
LP
3/1964
EMI
SCX 3506
St. Patrick's Day
LP
3/1971
Talisman
STAL 6024
St. Patrick's Day
CD
3/2005
EMI
7243 860956 2 6
Anthology: The Golden Anniversary Collection
Keep Smiling At Trouble
78 rpm
2/1958
Columbia
DB 4075
45 rpm
2/1958
Columbia
45-DB 4075
LP
8/1966
Music for Pleasure
MFP 1094
Your Favourite Colleen
CD
3/2005
EMI
7243 860956 2 6
Anthology: The Golden Anniversary Collection
Kellys, The
LP
1962
Columbia
SCX 3432
Irish....and Proud of it
LP
...
Capitol
?
Irish....and Proud of it
LP
11/1971
Talisman
STAL 6028
A Little Bit of Heaven
CD
3/1997
EMI
7243 856061 2 0
When Irish Eyes Are Smiling/Irish...and Proud of it
CD
3/2005
EMI Gold
7243 873633 2 8
It's the Irish in Me
Killarney, Killarney
LP
2/1967
Fontana
STL5380
The Spinning Wheel
LP
8/1969
Fontana Special
SFL 13138
The Spinning Wheel
CD
1993
Philips
514 349 - 2
Reflections: When Irish Eyes Are Smiling
Knock On Any Door
78 rpm
11/1956
Columbia
DB 3849
45 rpm
11/1956
Columbia
45-DB 3849
CD
5/1997
EMI
7243 855084 2 4
The Magic of Ruby Murray
Last Mile Home, The
LP
1/1960
Columbia
SCX 3289
Ruby
CD
3/2005
EMI
7243 860956 2 6
Anthology: The Golden Anniversary Collection
Let Him Go, Let Him Tarry
LP
12/1958
Columbia
33S 1135
Endearing Young Charms
LP
...
Capitol
DT 10459
Endearing Young Charms
EP
11/1959
Columbia
SEG 7952
Endearing Young Charms
LP
3/1984
Music for Pleasure
MFP 41 5644 1
The Very Best of Ruby Murray
Tape
1984
Music for Pleasure
TC-MFP 41 5644 4
The Very Best of Ruby Murray
CD
1988
EMI
CDB 7 52044 2
Ruby Murray Greatest Hits
CD
5/1997
EMI
7243 855084 2 4
The Magic of Ruby Murray
CD
2000
HMV Easy
7243 5 29446 2 0
The Ruby Murray Collection
CD
3/2005
EMI Gold
7243 873633 2 8
It's the Irish in Me
Let Him Go, Let Him Tarry (live)
LP
3/1964
EMI
SCX 3506
St. Patrick's Day
LP
3/1971
Talisman
STAL 6024
St. Patrick's Day
CD
1997
EMI
7243 856706 2 6
Best of Ireland
CD
3/2005
EMI
7243 860956 2 6
Anthology: The Golden Anniversary Collection
Let Me Go Lover
78 rpm
2/1955
Columbia
DB 3577
EP
5/1955
Columbia
SEG 7588
Ruby Is a Gem
LP
8/1966
Music for Pleasure
MFP 1094
Your Favourite Colleen
LP
6/1975
One Up
OU 2084
The Best of Ruby Murray
Tape
6/1975
One Up
TC OU 2084
The Best of Ruby Murray
LP
3/1984
Music for Pleasure
MFP 41 5644 1
The Very Best of Ruby Murray
Tape
1984
Music for Pleasure
TC-MFP 41 5644 4
The Very Best of Ruby Murray
CD
1988
EMI
CDB 7 52044 2
Ruby Murray Greatest Hits
LP
1989
EMI
EMS 1339
The Best of Ruby Murray - The EMI Years
CD
1989
EMI
CDP 7 92744 2
Ruby Murray The Best of the EMI Years
CD
5/1997
EMI
7243 855084 2 4
The Magic of Ruby Murray
CD
2000
HMV Easy
7243 5 29446 2 0
The Ruby Murray Collection
CD
3/2005
EMI
7243 860956 2 6
Anthology: The Golden Anniversary Collection
CD
8/2005
Pegasus
PEGCD 561
Happy Days and Lonely Nights
CD
2/2006
Xtra Delta Music
26527
Softly Softly
CD
3/2006
Hallmark
?
Heartbeat
Little Bit Of Heaven, A
LP
12/1958
Columbia
33S 1135
Endearing Young Charms
LP
...
Capitol
DT 10459
Endearing Young Charms
EP
11/1959
Columbia
SEG 7952
Endearing Young Charms
LP
11/1971
Talisman
STAL 6028
A Little Bit of Heaven
CD
3/2005
EMI
7243 860956 2 6
Anthology: The Golden Anniversary Collection
CD
3/2005
EMI Gold
7243 873633 2 8
It's the Irish in Me
Little One
78 rpm
9/1958
Columbia
DB 4192
45 rpm
9/1958
Columbia
45-DB 4192
CD
3/2005
EMI
7243 860956 2 6
Anthology: The Golden Anniversary Collection
Little Pine Tree, The
45 rpm
11/1965
Decca
F 12291
CD
2002
Marks & Spencer
MS 4900E
The Perfect Easy Listening Christmas CD
CD
2003
Vocalion
CDLK 4199
Merry Christmas with the Stars
Little White Lies
78 rpm
9/1957
Columbia
DB 3994
45 rpm
9/1957
Columbia
45-DB 3994
LP
8/1966
Music for Pleasure
MFP 1094
Your Favourite Colleen
LP
1989
EMI
EMS 1339
The Best of Ruby Murray - The EMI Years
CD
1989
EMI
CDP 7 92744 2
Ruby Murray The Best of the EMI Years
CD
5/1997
EMI
7243 855084 2 4
The Magic of Ruby Murray
CD
2000
HMV Easy
7243 5 29446 2 0
The Ruby Murray Collection
Living For The Day
45 rpm
2/1961
Columbia
45-DB 4575
CD
3/2005
EMI
7243 860956 2 6
Anthology: The Golden Anniversary Collection
Love's Old Sweet Song
LP
1/1960
Columbia
SCX 3289
Ruby
EP
12/1960
Columbia
ESG 7830
Love's Old Sweet Song (also mono SEG 8052)
CD
3/2005
EMI
7243 860956 2 6
Anthology: The Golden Anniversary Collection
Lovely Derry On The Banks Of The Foyle
LP
2/1967
Fontana
STL5380
The Spinning Wheel
LP
8/1969
Fontana Special
SFL 13138
The Spinning Wheel
CD
1993
Philips
514 349 - 2
Reflections: When Irish Eyes Are Smiling
Lovely Leitrim
LP
2/1968
Fontana
STL5444
This Is Ireland
CD
1993
Philips
514 349 - 2
Reflections: When Irish Eyes Are Smiling
Lucky Star
This song was never released commercially. An mp3 copy can be found in the Library of this website.
Macnamara's Band (live)
LP
3/1964
EMI
SCX 3506
St. Patrick's Day
LP
3/1971
Talisman
STAL 6024
St. Patrick's Day
CD
1997
EMI
7243 856706 2 6
Best of Ireland
CD
3/2005
EMI
7243 860956 2 6
Anthology: The Golden Anniversary Collection
Macushla Mine
78 rpm
6/1957
Columbia
DB 3955
45 rpm
6/1957
Columbia
45-DB 3955
EP
12/1957
Columbia
SEG 7748
It's a Great Day for the Irish
LP
8/1966
Music for Pleasure
MFP 1094
Your Favourite Colleen
CD
3/2005
EMI
7243 860956 2 6
Anthology: The Golden Anniversary Collection
McCarthy's Party
LP
2/1968
Fontana
STL5444
This Is Ireland
CD
1993
Philips
514 349 - 2
Reflections: When Irish Eyes Are Smiling
Meeting Of The Waters, The
LP
12/1958
Columbia
33S 1135
Endearing Young Charms
LP
...
Capitol
DT 10459
Endearing Young Charms
LP
11/1971
Talisman
STAL 6028
A Little Bit of Heaven
CD
1990
Rego Records
RCD-82000
On The One Road
CD
3/2005
EMI
7243 860956 2 6
Anthology: The Golden Anniversary Collection
Message From Jimmy, A
78 rpm
11/1959
Columbia
DB 4379
45 rpm
11/1959
Columbia
45-DB 4379
CD
3/2005
EMI
7243 860956 2 6
Anthology: The Golden Anniversary Collection
Mick McGilligan's Ball
LP
12/1958
Columbia
33S 1135
Endearing Young Charms
LP
...
Capitol
DT 10459
Endearing Young Charms
LP
11/1971
Talisman
STAL 6028
A Little Bit of Heaven
CD
3/2005
EMI
7243 860956 2 6
Anthology: The Golden Anniversary Collection
CD
3/2005
EMI Gold
7243 873633 2 8
It's the Irish in Me
Miss O'Leary's Irish Fruit Cake
LP
1962
Columbia
SCX 3432
Irish....and Proud of it
LP
11/1971
Talisman
STAL 6028
A Little Bit of Heaven
CD
3/1997
EMI
7243 856061 2 0
When Irish Eyes Are Smiling/Irish...and Proud of it
CD
3/2005
EMI Gold
7243 873633 2 8
It's the Irish in Me
Mountains Of Mourne, The
LP
11/1955
Columbia
33S 1079
When Irish Eyes are Smiling
LP
...
Capitol
T 100010
The Voice of Ireland
LP
11/1970
Talisman
STAL 6014
Irish....and Proud of it
CD
3/1997
EMI
7243 856061 2 0
When Irish Eyes Are Smiling/Irish...and Proud of it
CD
5/1997
EMI
7243 855084 2 4
The Magic of Ruby Murray
CD
3/2005
EMI Gold
7243 873633 2 8
It's the Irish in Me
CD
2/2006
Xtra Delta Music
26527
Softly Softly
Mr Wonderful
78 rpm
4/1957
Columbia
DB 3933
45 rpm
4/1957
Columbia
45-DB 3933
LP
9/1961
Encore
ENC 104
Ruby Murray Successes
LP
6/1975
One Up
OU 2084
The Best of Ruby Murray
Tape
6/1975
One Up
TC OU 2084
The Best of Ruby Murray
LP
3/1984
Music for Pleasure
MFP 41 5644 1
The Very Best of Ruby Murray
Tape
1984
Music for Pleasure
TC-MFP 41 5644 4
The Very Best of Ruby Murray
CD
1988
EMI
CDB 7 52044 2
Ruby Murray Greatest Hits
LP
1989
EMI
EMS 1339
The Best of Ruby Murray - The EMI Years
CD
1989
EMI
CDP 7 92744 2
Ruby Murray The Best of the EMI Years
CD
5/1997
EMI
7243 855084 2 4
The Magic of Ruby Murray
CD
2000
HMV Easy
7243 5 29446 2 0
The Ruby Murray Collection
CD
3/2005
EMI
7243 860956 2 6
Anthology: The Golden Anniversary Collection
Music Maestro Please
LP
1/1960
Columbia
SCX 3289
Ruby
CD
3/2005
EMI
7243 860956 2 6
Anthology: The Golden Anniversary Collection
My Little Corner Of The World
45 rpm
9/1960
Columbia
45-DB 4497
LP
6/1975
One Up
OU 2084
The Best of Ruby Murray
Tape
6/1975
One Up
TC OU 2084
The Best of Ruby Murray
CD
3/2005
EMI
7243 860956 2 6
Anthology: The Golden Anniversary Collection
Nevertheless I'm In Love With You
78 rpm
3/1959
Columbia
DB 4266
45 rpm
3/1959
Columbia
45-DB 4266
LP
8/1966
Music for Pleasure
MFP 1094
Your Favourite Colleen
LP
3/1984
Music for Pleasure
MFP 41 5644 1
The Very Best of Ruby Murray
Tape
1984
Music for Pleasure
TC-MFP 41 5644 4
The Very Best of Ruby Murray
CD
1988
EMI
CDB 7 52044 2
Ruby Murray Greatest Hits
CD
1995
Music for Pleasure
CDTR Box 180
Love Songs of the Fifties
CD
5/1997
EMI
7243 855084 2 4
The Magic of Ruby Murray
CD
2000
HMV Easy
7243 5 29446 2 0
The Ruby Murray Collection
Nora Malone
78 rpm
4/1958
Columbia
DB 4108
45 rpm
4/1958
Columbia
45-DB 4108
CD
3/2005
EMI
7243 860956 2 6
Anthology: The Golden Anniversary Collection
Now Is The Hour
LP
1/1960
Columbia
SCX 3289
Ruby
CD
1988
EMI
CDB 7 52044 2
Ruby Murray Greatest Hits
CD
3/2005
EMI
7243 860956 2 6
Anthology: The Golden Anniversary Collection
(Oh Please) Make Him Jealous
78 rpm
2/1956
Columbia
DB 3718
45 rpm
2/1956
Columbia
SCM 5225
CD
5/1997
EMI
7243 855084 2 4
The Magic of Ruby Murray
Old Bog Road, The
LP
2/1968
Fontana
STL5444
This Is Ireland
CD
1993
Philips
514 349 - 2
Reflections: When Irish Eyes Are Smiling
Old Lammas Fair, The
LP
1962
Columbia
SCX 3432
Irish....and Proud of it
LP
...
Capitol
?
Irish....and Proud of it
LP
11/1970
Talisman
STAL 6014
Irish....and Proud of it
CD
3/1997
EMI
7243 856061 2 0
When Irish Eyes Are Smiling/Irish...and Proud of it
CD
3/2005
EMI Gold
7243 873633 2 8
It's the Irish in Me
Old Pig-Sty, The
LP
1962
Columbia
SCX 3432
Irish....and Proud of it
LP
...
Capitol
?
Irish....and Proud of it
LP
11/1971
Talisman
STAL 6028
A Little Bit of Heaven
CD
3/1997
EMI
7243 856061 2 0
When Irish Eyes Are Smiling/Irish...and Proud of it
CD
3/2005
EMI Gold
7243 873633 2 8
It's the Irish in Me
O'Malley's Tango
78 rpm
12/1956
Columbia
DB 3852
45 rpm
12/1956
Columbia
45-DB 3852
EP
4/1957
Columbia
SEG 7687
Norman and Ruby
LP
8/1966
Music for Pleasure
MFP 1094
Your Favourite Colleen
CD
5/1997
EMI
7243 855084 2 4
The Magic of Ruby Murray
CD
3/2005
EMI
7243 860956 2 6
Anthology: The Golden Anniversary Collection
Paddy McGinty's Goat
LP
2/1968
Fontana
STL5444
This Is Ireland
CD
1993
Philips
514 349 - 2
Reflections: When Irish Eyes Are Smiling
Paper Mansions
45 rpm
5/1967
Fontana
TF 838
Passing Strangers
78 rpm
9/1957
Columbia
DB 3994
45 rpm
9/1957
Columbia
45-DB 3994
LP
8/1966
Music for Pleasure
MFP 1094
Your Favourite Colleen
LP
6/1975
One Up
OU 2084
The Best of Ruby Murray
Tape
6/1975
One Up
TC OU 2084
The Best of Ruby Murray
CD
5/1997
EMI
7243 855084 2 4
The Magic of Ruby Murray
CD
2000
HMV Easy
7243 5 29446 2 0
The Ruby Murray Collection
CD
3/2005
EMI
7243 860956 2 6
Anthology: The Golden Anniversary Collection
Peggy O'Neil
LP
1962
Columbia
SCX 3432
Irish....and Proud of it
LP
...
Capitol
?
Irish....and Proud of it
LP
11/1971
Talisman
STAL 6028
A Little Bit of Heaven
CD
3/1997
EMI
7243 856061 2 0
When Irish Eyes Are Smiling/Irish...and Proud of it
Pennies From Heaven
LP
1/1960
Columbia
SCX 3289
Ruby
CD
1988
EMI
CDB 7 52044 2
Ruby Murray Greatest Hits
CD
2000
HMV Easy
7243 5 29446 2 0
The Ruby Murray Collection
CD
3/2005
EMI
7243 860956 2 6
Anthology: The Golden Anniversary Collection
Phil The Fluter's Ball
LP
11/1955
Columbia
33S 1079
When Irish Eyes are Smiling
LP
...
Capitol
T 100010
The Voice of Ireland
LP
11/1970
Talisman
STAL 6014
Irish....and Proud of it
CD
3/1997
EMI
7243 856061 2 0
When Irish Eyes Are Smiling/Irish...and Proud of it
CD
3/2005
EMI Gold
7243 873633 2 8
It's the Irish in Me
CD
2/2006
Xtra Delta Music
26527
Softly Softly
CD
3/2006
Hallmark
?
Heartbeat
Pianissimo
45 rpm
2/1962
Columbia
45-DB 4771
CD
3/2005
EMI
7243 860956 2 6
Anthology: The Golden Anniversary Collection
Please Hold Me Tightly
78 rpm
4/1956
Columbia
DB 3750
EP
6/1956
Columbia
SEG 7636
Everybody's Sweetheart (No. 3)
CD
3/2005
EMI
7243 860956 2 6
Anthology: The Golden Anniversary Collection
CD
8/2005
Pegasus
PEGCD 561
Happy Days and Lonely Nights
Pretty Irish Girl, A (live)

(with Bernie Burgess)

This song was never released commercially. An mp3 copy can be found in the Library of this website.
Pretty Irish Girl, A

(with Brendan O'Dowda)

78 rpm
6/1959
Columbia
DB 4326
45 rpm
6/1959
Columbia
45-DB 4326
CD
3/2005
EMI
7243 860956 2 6
Anthology: The Golden Anniversary Collection
Pretty, Pretty
78 rpm
4/1957
Columbia
DB 3933
45 rpm
4/1957
Columbia
45-DB 3933
CD
3/2005
EMI
7243 860956 2 6
Anthology: The Golden Anniversary Collection
Promises Were Made To Be Broken
45 rpm
2/1965
Columbia
DB 7491
CD
3/2005
EMI
7243 860956 2 6
Anthology: The Golden Anniversary Collection
Raindrops Keep Falling On My Head
LP
12/1970
President
PTLS 1040
Change Your Mind
LP
12/1977
Rhapsody
RHAS 9018
Softly Softly
CD
11/2004
President
PRCD158
Change Your Mind
Rathfriland On The Hill
LP
2/1968
Fontana
STL5444
This Is Ireland
Real Love
78 rpm
9/1958
Columbia
DB 4192
45 rpm
9/1958
Columbia
45-DB 4192
LP
9/1961
Encore
ENC 104
Ruby Murray Successes
LP
6/1975
One Up
OU 2084
The Best of Ruby Murray
LP
3/1984
Music for Pleasure
MFP 41 5644 1
The Very Best of Ruby Murray
Tape
1984
Music for Pleasure
TC-MFP 41 5644 4
The Very Best of Ruby Murray
CD
1988
EMI
CDB 7 52044 2
Ruby Murray Greatest Hits
CD
2000
HMV Easy
7243 5 29446 2 0
The Ruby Murray Collection
CD
3/2005
EMI
7243 860956 2 6
Anthology: The Golden Anniversary Collection
Scarlet Ribbons
78 rpm
6/1957
Columbia
DB 3955
45 rpm
6/1957
Columbia
45-DB 3955
LP
9/1961
Encore
ENC 104
Ruby Murray Successes
LP
6/1975
One Up
OU 2084
The Best of Ruby Murray
Tape
6/1975
One Up
TC OU 2084
The Best of Ruby Murray
LP
1989
EMI
EMS 1339
The Best of Ruby Murray - The EMI Years
CD
1989
EMI
CDP 7 92744 2
Ruby Murray The Best of the EMI Years
CD
3/2005
EMI
7243 860956 2 6
Anthology: The Golden Anniversary Collection
Silent Night
45 rpm
11/1965
Decca
F 12291
CD
2003
Vocalion
CDLK 4199
Merry Christmas with the Stars
CD
10/2007
Horizon
?
Christmas Funtime With the Stars
Six Mile Song, The
LP
2/1967
Fontana
STL5380
The Spinning Wheel
LP
8/1969
Fontana Special
SFL 13138
The Spinning Wheel
Slieve Gallon Braes
LP
2/1968
Fontana
STL5444
This Is Ireland
CD
1993
Philips
514 349 - 2
Reflections: When Irish Eyes Are Smiling
Slowly With Feeling
78 rpm
11/1955
Columbia
DB 3680
EP
1/1956
Columbia
SEG 7620
Everybody's Sweetheart
LP
9/1961
Encore
ENC 104
Ruby Murray Successes
LP
6/1975
One Up
OU 2084
The Best of Ruby Murray
Tape
6/1975
One Up
TC OU 2084
The Best of Ruby Murray
CD
3/2005
EMI
7243 860956 2 6
Anthology: The Golden Anniversary Collection
CD
3/2006
Hallmark
?
Heartbeat
Smile
LP
1/1960
Columbia
SCX 3289
Ruby
CD
1988
EMI
CDB 7 52044 2
Ruby Murray Greatest Hits
CD
5/1997
EMI
7243 855084 2 4
The Magic of Ruby Murray
CD
2000
HMV Easy
7243 5 29446 2 0
The Ruby Murray Collection
CD
3/2005
EMI
7243 860956 2 6
Anthology: The Golden Anniversary Collection
Softly, Softly
78 rpm
1/1955
Columbia
DB 3558
45 rpm
1/1955
Columbia
SCM 5162
LP
9/1961
Encore
ENC 104
Ruby Murray Successes
LP
...
Capitol
?
Irish....and Proud of it
LP
6/1975
One Up
OU 2084
The Best of Ruby Murray
Tape
6/1975
One Up
TC OU 2084
The Best of Ruby Murray
Tape
1980
EMI
TC THIS 13
This Is the Fifties
LP
3/1984
Music for Pleasure
MFP 41 5644 1
The Very Best of Ruby Murray
Tape
1984
Music for Pleasure
TC-MFP 41 5644 4
The Very Best of Ruby Murray
Tape
1986
EMI
HR 41 8110 4
The Stars of the Fifties
CD
1988
EMI
CDB 7 52032 2
Stars of the 50s
CD
1988
EMI
CDB 7 52044 2
Ruby Murray Greatest Hits
CD
1989
Music for Pleasure
MFP 6051
The Great Entertainers Vol. 1
LP
1989
EMI
EMS 1339
The Best of Ruby Murray - The EMI Years
CD
1989
EMI
CDP 7 92744 2
Ruby Murray The Best of the EMI Years
CD
...
Music for Pleasure
CDTR Box 144
Hits from the Fifties
CD
5/1997
EMI
7243 855084 2 4
The Magic of Ruby Murray
CD
2000
HMV Easy
7243 5 29446 2 0
The Ruby Murray Collection
CD
3/2005
EMI
7243 860956 2 6
Anthology: The Golden Anniversary Collection
CD
8/2005
Pegasus
PEGCD 561
Happy Days and Lonely Nights
CD
2/2006
Xtra Delta Music
26527
Softly Softly
CD
3/2006
Hallmark
?
Heartbeat
Softly, Softly (version 2)
45 rpm
2/1965
Columbia
DB 7491
CD
2002
Vocalion
CDLK 4148
5 Fabulous Females
Softly, Softly (version 3)
LP
12/1970
President
PTLS 1040
Change Your Mind
LP
12/1977
Rhapsody
RHAS 9018
Softly Softly
CD
11/2004
President
PRCD158
Change Your Mind
Something Old, Something New
45 rpm
11/1963
Columbia
DB 7151
CD
3/2005
EMI
7243 860956 2 6
Anthology: The Golden Anniversary Collection
Sooner Or Later
45 rpm
3/1968
Fontana
TF 914
Spinning Wheel, The
LP
2/1967
Fontana
STL5380
The Spinning Wheel
LP
8/1969
Fontana Special
SFL 13138
The Spinning Wheel
CD
1993
Philips
514 349 - 2
Reflections: When Irish Eyes Are Smiling

Spring, Spring, Spring
(with Diana Decker, Ray Burns, & Ronnie Harris)

78 rpm
2/1955
Columbia
DB 3567
45 rpm
2/1955
Columbia
SCM 5165
CD
2002
EMI Gold
7243 541491 2 2
The Complete Diana Decker
CD
3/2005
EMI
7243 860956 2 6
Anthology: The Golden Anniversary Collection
CD
3/2006
Hallmark
?
Heartbeat
Stone Outside Dan Murphy's Door, The
LP
1962
Columbia
SCX 3432
Irish....and Proud of it
LP
...
Capitol
?
Irish....and Proud of it
LP
11/1970
Talisman
STAL 6014
Irish....and Proud of it
CD
3/1997
EMI
7243 856061 2 0
When Irish Eyes Are Smiling/Irish...and Proud of it
Sweetheart Of All My Dreams
45 rpm
9/1960
Columbia
45-DB 4497
CD
3/2005
EMI
7243 860956 2 6
Anthology: The Golden Anniversary Collection
Tammy Tell Me True
45 rpm
10/1961
Columbia
45-DB 4701
LP
1989
EMI
EMS 1339
The Best of Ruby Murray - The EMI Years
CD
1989
EMI
CDP 7 92744 2
Ruby Murray The Best of the EMI Years
CD
1995
Music for Pleasure
CDTR Box 180
Love Songs of the Fifties
CD
3/2005
EMI
7243 860956 2 6
Anthology: The Golden Anniversary Collection
Teddy O'Neil
EP
5/1956
Columbia
SEG 7631
Everybody's Sweetheart (No. 2)
78 rpm
9/1956
Columbia
DB 3810
45 rpm
9/1956
Columbia
45-DB 3810
LP
...
Capitol
T 100010
The Voice of Ireland
CD
3/2005
EMI
7243 860956 2 6
Anthology: The Golden Anniversary Collection
CD
8/2005
Pegasus
PEGCD 561
Happy Days and Lonely Nights
Teddy O'Neil (live)
LP
3/1964
EMI
SCX 3506
St. Patrick's Day
LP
3/1971
Talisman
STAL 6024
St. Patrick's Day
CD
1997
EMI
7243 856706 2 6
Best of Ireland
CD
3/2005
EMI
7243 860956 2 6
Anthology: The Golden Anniversary Collection
That Look In My Eye
EP
6/1956
Columbia
SEG 7636
Everybody's Sweetheart (No. 3)
CD
3/2005
EMI
7243 860956 2 6
Anthology: The Golden Anniversary Collection
There's A Little Bit Of Irish
LP
12/1970
President
PTLS 1040
Change Your Mind
LP
12/1977
Rhapsody
RHAS 9018
Softly Softly
CD
11/2004
President
PRCD158
Change Your Mind
This Is My Song
This song was never released commercially. An mp3 copy can be found in the Library of this website.
Through The Eyes Of A Child
LP
12/1970
President
PTLS 1040
Change Your Mind
LP
12/1977
Rhapsody
RHAS 9018
Softly Softly
CD
11/2004
President
PRCD158
Change Your Mind
Till We Meet Again
LP
1/1960
Columbia
SCX 3289
Ruby
EP
12/1960
Columbia
ESG 7830
Love's Old Sweet Song (also mono SEG 8052)
CD
3/2005
EMI
7243 860956 2 6
Anthology: The Golden Anniversary Collection
Time To Smile Again
LP
12/1970
President
PTLS 1040
Change Your Mind
LP
12/1977
Rhapsody
RHAS 9018
Softly Softly
CD
11/2004
President
PRCD158
Change Your Mind
Too-Ra-Loo-Ra-Loo-Ral
See entry for Irish Lullaby
Trottin' To The Fair
LP
1962
Columbia
SCX 3432
Irish....and Proud of it
LP
...
Capitol
?
Irish....and Proud of it
LP
11/1970
Talisman
STAL 6014
Irish....and Proud of it
CD
1988
EMI
CDB 7 52044 2
Ruby Murray Greatest Hits
CD
3/1997
EMI
7243 856061 2 0
When Irish Eyes Are Smiling/Irish...and Proud of it
CD
1997
EMI
7243 856706 2 6
Best of Ireland
CD
3/2005
EMI Gold
7243 873633 2 8
It's the Irish in Me
True Love
78 rpm
11/1956
Columbia
DB 3849
45 rpm
11/1956
Columbia
45-DB 3849
LP
9/1961
Encore
ENC 104
Ruby Murray Successes
LP
6/1975
One Up
OU 2084
The Best of Ruby Murray
Tape
6/1975
One Up
TC OU 2084
The Best of Ruby Murray
LP
1989
EMI
EMS 1339
The Best of Ruby Murray - The EMI Years
CD
1989
EMI
CDP 7 92744 2
Ruby Murray The Best of the EMI Years
CD
3/2005
EMI
7243 860956 2 6
Anthology: The Golden Anniversary Collection
Turn And Walk Away
LP
12/1970
President
PTLS 1040
Change Your Mind
LP
12/1977
Rhapsody
RHAS 9018
Softly Softly
CD
11/2004
President
PRCD158
Change Your Mind
Two Kinds Of Tears
78 rpm
9/1954
Columbia
DB 3518
EP
5/1956
Columbia
SEG 7631
Everybody's Sweetheart (No. 2)
CD
5/1997
EMI
7243 855084 2 4
The Magic of Ruby Murray
Two Rivers

(with Norman Wisdom)

78 rpm
1/1956
Columbia
DB 3715
45 rpm
1/1956
Columbia
SCM 5222
CD
2003
EMI Gold
7243 582652 2 4
The Very Best of Norman Wisdom
CD
3/2005
EMI
7243 860956 2 6
Anthology: The Golden Anniversary Collection
Very First Christmas Of All, The
78 rpm
11/1955
Columbia
DB 3680
EP
1/1956
Columbia
SEG 7620
Everybody's Sweetheart
CD
3/2005
EMI
7243 860956 2 6
Anthology: The Golden Anniversary Collection
CD
3/2006
Hallmark
?
Heartbeat
Voice In The Choir, A
78 rpm
11/1959
Columbia
DB 4379
45 rpm
11/1959
Columbia
45-DB 4379
CD
3/2005
EMI
7243 860956 2 6
Anthology: The Golden Anniversary Collection
Watch The World Go By
LP
12/1970
President
PTLS 1040
Change Your Mind
LP
12/1977
Rhapsody
RHAS 9018
Softly Softly
CD
11/2004
President
PRCD158
Change Your Mind
Ways And Means
LP
12/1970
President
PTLS 1040
Change Your Mind
45 rpm
3/1971
President
PT 327
LP
12/1977
Rhapsody
RHAS 9018
Softly Softly
CD
11/2004
President
PRCD158
Change Your Mind
Wee Cup Of Tay
LP
2/1967
Fontana
STL5380
The Spinning Wheel
LP
8/1969
Fontana Special
SFL 13138
The Spinning Wheel
CD
1993
Philips
514 349 - 2
Reflections: When Irish Eyes Are Smiling
What Could Be More Beautiful?
78 rpm
1/1955
Columbia
DB 3558
45 rpm
1/1955
Columbia
SCM 5162
CD
3/2005
EMI
7243 860956 2 6
Anthology: The Golden Anniversary Collection
CD
8/2005
Pegasus
PEGCD 561
Happy Days and Lonely Nights
CD
2/2006
Xtra Delta Music
26527
Softly Softly
CD
3/2006
Hallmark
?
Heartbeat
When I Grow Too Old To Dream
LP
1/1960
Columbia
SCX 3289
Ruby
EP
12/1960
Columbia
ESG 7830
Love's Old Sweet Song (also mono SEG 8052)
CD
1988
EMI
CDB 7 52044 2
Ruby Murray Greatest Hits
CD
3/2005
EMI
7243 860956 2 6
Anthology: The Golden Anniversary Collection
When Irish Eyes Are Smiling
LP
11/1955
Columbia
33S 1079
When Irish Eyes are Smiling
LP
...
Capitol
T 100010
The Voice of Ireland
LP
11/1970
Talisman
STAL 6014
Irish....and Proud of it
LP
3/1984
Music for Pleasure
MFP 41 5644 1
The Very Best of Ruby Murray
Tape
1984
Music for Pleasure
TC-MFP 41 5644 4
The Very Best of Ruby Murray
CD
1988
EMI
CDB 7 52044 2
Ruby Murray Greatest Hits
CD
3/1997
EMI
7243 856061 2 0
When Irish Eyes Are Smiling/Irish...and Proud of it
CD
5/1997
EMI
7243 855084 2 4
The Magic of Ruby Murray
CD
1997
EMI
7243 856706 2 6
Best of Ireland
CD
2000
HMV Easy
7243 5 29446 2 0
The Ruby Murray Collection
CD
3/2005
EMI Gold
7243 873633 2 8
It's the Irish in Me
CD
2/2006
Xtra Delta Music
26527
Softly Softly
CD
3/2006
Hallmark
?
Heartbeat
When Irish Eyes Are Smiling (version 2)
LP
2/1967
Fontana
STL5380
The Spinning Wheel
LP
8/1969
Fontana Special
SFL 13138
The Spinning Wheel
CD
1993
Philips
514 349 - 2
Reflections: When Irish Eyes Are Smiling
When You Wore A Tulip
LP
1/1960
Columbia
SCX 3289
Ruby
EP
12/1960
Columbia
ESG 7830
Love's Old Sweet Song (also mono SEG 8052)
CD
3/2005
EMI
7243 860956 2 6
Anthology: The Golden Anniversary Collection
Who Knows?
78 rpm
3/1959
Columbia
DB 4266
45 rpm
3/1959
Columbia
45-DB 4266
CD
3/2005
EMI
7243 860956 2 6
Anthology: The Golden Anniversary Collection
With Me Shellelagh Under Me Arm
LP
12/1958
Columbia
33S 1135
Endearing Young Charms
LP
...
Capitol
DT 10459
Endearing Young Charms
EP
11/1959
Columbia
SEG 7952
Endearing Young Charms
LP
11/1971
Talisman
STAL 6028
A Little Bit of Heaven
CD
3/2005
EMI
7243 860956 2 6
Anthology: The Golden Anniversary Collection
CD
3/2005
EMI Gold
7243 873633 2 8
It's the Irish in Me
You Are My First Love
78 rpm
5/1956
Columbia
DB 3770
EP
6/1956
Columbia
SEG 7636
Everybody's Sweetheart (No. 3)
EP
6/1956
Columbia
SEG 7639
It's Great To Be Young
LP
6/1975
One Up
OU 2084
The Best of Ruby Murray
Tape
6/1975
One Up
TC OU 2084
The Best of Ruby Murray
LP
3/1984
Music for Pleasure
MFP 41 5644 1
The Very Best of Ruby Murray
Tape
1984
Music for Pleasure
TC-MFP 41 5644 4
The Very Best of Ruby Murray
CD
1988
EMI
CDB 7 52044 2
Ruby Murray Greatest Hits
CD
...
EMI
CDB 7 92191 2
Music Music Music
CD
2000
HMV Easy
7243 5 29446 2 0
The Ruby Murray Collection
CD
3/2005
EMI
7243 860956 2 6
Anthology: The Golden Anniversary Collection
CD
8/2005
Pegasus
PEGCD 561
Happy Days and Lonely Nights
You Are My Sunshine
LP
1/1960
Columbia
SCX 3289
Ruby
CD
1988
EMI
CDB 7 52044 2
Ruby Murray Greatest Hits
CD
3/2005
EMI
7243 860956 2 6
Anthology: The Golden Anniversary Collection
Sources Used For The Above Listing
Format

Released
Label
Number
Compilation Title
Singles 78/45
For individual details see the table above.
EP
5/1955
Columbia
SEG 7588
Ruby Is a Gem
LP
11/1955
Columbia
33S 1079
When Irish Eyes are Smiling
EP
1/1956
Columbia
SEG 7620
Everybody's Sweetheart
EP
5/1956
Columbia
SEG 7631
Everybody's Sweetheart (No. 2)
EP
6/1956
Columbia
SEG 7636
Everybody's Sweetheart (No. 3)
EP
6/1956
Columbia
SEG 7639
It's Great To Be Young
LP
...
Capitol
T 100010
The Voice of Ireland
EP
11/1956
Columbia
SEG 7669
Our Choice
EP
4/1957
Columbia
SEG 7687
Norman and Ruby
EP
12/1957
Columbia
SEG 7748
It's a Great Day for the Irish
LP
12/1958
Columbia
33S 1135
Endearing Young Charms
LP
...
Capitol
DT 10459
Endearing Young Charms
EP
11/1959
Columbia
SEG 7952
Endearing Young Charms
LP
1/1960
Columbia
SCX 3289
Ruby (-- also mono 33SX 1201)
EP
12/1960
Columbia
ESG 7830
Love's Old Sweet Song (-- also mono SEG 8052)
LP
1960/61
Columbia
33SX 1244
Blackpool Nights
LP
9/1961
Encore
ENC 104
Ruby Murray Successes
LP
6/1962
Columbia
SCX 3432
Irish....and Proud of it (-- also mono 33SX 1402)
LP
...
Capitol
?
Irish....and Proud of it
LP
3/1964
EMI
SCX 3506
St. Patrick's Day (-- also mono 33SX 1589)
LP
8/1966
Music for Pleasure
MFP 1094
Your Favourite Colleen
LP
2/1967
Fontana
STL5380
The Spinning Wheel (-- also mono TL5380)
LP
2/1968
Fontana
STL5444
This Is Ireland (-- also mono TL5444)
LP
8/1969
Fontana Special
SFL 13138
The Spinning Wheel
LP
11/1970
Talisman
STAL 6014
Irish....and Proud of it
LP
12/1970
President
PTLS 1040
Change Your Mind
LP
3/1971
Talisman
STAL 6024
St. Patrick's Day
LP
11/1971
Talisman
STAL 6028
A Little Bit of Heaven
LP
6/1975
One Up
OU 2084
The Best of Ruby Murray
Cassette Tape
6/1975
One Up
TC OU 2084
The Best of Ruby Murray
LP
12/1977
Rhapsody
RHAS 9018
Softly Softly
Cassette Tape
1980
EMI
TC THIS 13
This Is the Fifties
EP
5/1981
EMI
MI 4001
Here's To the Couple
LP
3/1984
Music for Pleasure
MFP 41 5644 1
The Very Best of Ruby Murray
Cassette Tape
1984
Music for Pleasure
TC-MFP 41 5644 4
The Very Best of Ruby Murray
LP
1984
Music for Pleasure
MFP DL41 1050 3
Favourites of the 1950s (Double LP)
Cassette Tape
1986
EMI
HR 41 8110 4
The Stars of the Fifties
CD
1988
EMI
CDB 7 52032 2
Stars of the 50s
CD
1988
EMI
CDB 7 52044 2
Ruby Murray Greatest Hits
CD
1989
Music for Pleasure
MFP 6045
Hits of 1959
CD
1989
Music for Pleasure
MFP 6051
The Great Entertainers Vol. 1
CD
...
EMI
CDB 7 92191 2
Music Music Music
LP
1989
EMI
EMS 1339
The Best of Ruby Murray - The EMI Years
CD
1989
EMI
CDP 7 92744 2
Ruby Murray The Best of the EMI Years
CD
1990
Rego Records
RCD-82000
On The One Road
CD
1990
Readers Digest
RDCD 161 166
These Were Our Songs The Early 50s
CD
1992
Music for Pleasure
0777 7 80618 2 3
Flashback to the Fifties (Double CD)
CD
1993
Philips
514 349 - 2
Reflections: When Irish Eyes Are Smiling
CD
...
Music for Pleasure
CDTR Box 144
Hits from the Fifties
CD
1995
Music for Pleasure
CDTR Box 180
Love Songs of the Fifties
CD
3/1997
EMI
7243 856061 2 0
When Irish Eyes Are Smiling/Irish...and Proud of it
CD
5/1997
EMI
7243 855084 2 4
The Magic of Ruby Murray
CD
1997
EMI
7243 856706 2 6
Best of Ireland
CD
1999
Disky
DB 856362
Memories Are Made of This
CD
2000
HMV Easy
7243 5 29446 2 0
The Ruby Murray Collection
CD
2002
EMI Gold
7243 541491 2 2
The Complete Diana Decker
CD
2002
Vocalion
CDLK 4148
5 Fabulous Females
CD
2002
Marks & Spencer
MS 4900E
The Perfect Easy Listening Christmas CD
CD
2003
EMI Gold
7243 582652 2 4
The Very Best of Norman Wisdom
CD
2003
Vocalion
CDLK 4199
Merry Christmas with the Stars
CD
11/2004
President
PRCD158
Change Your Mind
CD
3/2005
EMI
7243 860956 2 6
Anthology: The Golden Anniversary Collection (4 CD)
CD
3/2005
EMI Gold
7243 873633 2 8
It's the Irish in Me
CD
8/2005
Pegasus
PEGCD 561
Happy Days and Lonely Nights
CD
2/2006
Xtra Delta Music
26527
Softly Softly
CD
3/2006
Hallmark
?
Heartbeat
CD
10/2007
Horizon
?
Christmas Funtime With the Stars